Digital Rapid Response

For Customer Communication
Organizations everywhere are naturally playing defense as they grapple with the Coronavirus / COVID-19 pandemic emergency. It's crucial, however, that they also actively go on offense to mitigate the effects of the outbreak, retain customer confidence, maintain business continuity, and emerge strong and ready for when this all ends.
A traditional crisis-response approach will not be sufficient—proactive customer communication has never been more urgent or business-critical. StitchDX offers a COVID-19 Digital Rapid Response solution that enables CEOs to act now and act aggressively. (see example)
Keep customer confidence
by keeping your customers informed.
The COVID-19 Digital Rapid Response solution offers a centralized, easy-to-update location on your website to communicate, with full transparency, vital customer retention and business continuity concerns, including: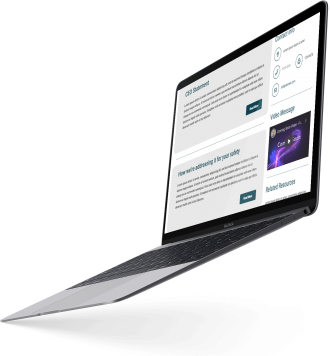 COVID-19 is the most serious business interruption to ever hit the global economy. You must maintain a steady approach throughout this crisis by overcommunicating with customers and other stakeholders, preparing for the worst (and being grateful if it does not happen), and acting with a sense of urgency equivalent to the scale of the crisis. How your organization navigates the effects of the pandemic could change daily and require frequent communication made possible with a nimble messaging platform.
How your organization and business are affected by the COVID-19 crisis

Potential customer impact—what they need to know

The operational changes you're enacting to mitigate this impact (creating a crisis response team, maintaining operations in a remote capacity, etc.)

The process for customers to contact you and elevate support requests where necessary
Steps you're taking to keep employees and customers safe
COVID-19 Rapid Response Options
Structured dashboard to easily communicate and update business impact, current activities, challenges, potential disruptions, best contact details, etc.

Customer will receive training on editing and maintaining all page content.

Prominent link in site navigation, or a home page button, takes visitors directly to the emergency customer update page.
Site-wide, more visible access, enabling visitor access to your COVID-19 information from anywhere on your site.
Includes all Starter Dashboard features PLUS:
Customized dashboard header mirroring your existing site navigation.

Customized site-wide header bar with link to emergency customer update page.
(+ $15/mo hosting & maintenance)
(+ $45/mo hosting & maintenance)
*HubSpot Marketing Starter begins at $50/mo and is a month-to-month license agreement direct with HubSpot.
†Depending on needs, additional costs may apply for email platform upgrade.
(+ $95/mo hosting & maintenance)
Your foundation for consistent, proactive, direct communication to customers, prospects, vendors, and partners as the crisis unfolds and your response evolves.


Includes all Communication Dashboard+ features PLUS:
SMS to push direct relevant messaging

"Keep Me Updated" Newsletter Signup and on page Chatbot using HubSpot Marketing Starter* (or customer's existing email platform†)
Not sure which option is right for your organization?
Complete the form above and someone from our team will reach out to you right away to help determine the right option for your needs.
Copyright © 2020 StitchDX, LLC. All Rights Reserved.
StitchDX is a digital experience agency focused on helping organizations reach and engage all their customer audiences—internal and external. Our brand-first approach delivers services and solutions that help our customers optimize user experience, improve marketing, and leverage technology to achieve high-impact growth goals around customer acquisition and employee engagement.
800-535-1314
116 John Street
Suite #410
Lowell, MA 01852